This weekend I had the privilege to present at bsidesdc.org on the subject of Social Engineering techniques for use in driving positive security outcomes.  At the end of the presentation there were several great questions and a slide of reference materials I've studied related to the concepts I was presenting in the class.  Though I'm still settling back down after the conference, I did want to post the final slide from my deck (and my comments on the references) for others to follow up on if interested.  You can find the recording of the presentation and Question/Answer section here.  They were great questions which I think really helped add to the topic.
So here is the slide and my comments on the references (links to PDF version):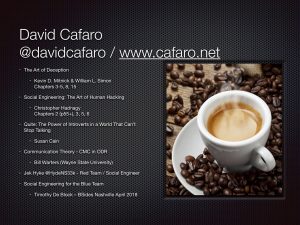 For the first two book references I called out particular chapters I thought were especially relevant to "Blue Team" security influencing. But, both books are a great read in whole.